Honey Citrus Steak Lettuce Cups
Appetizer
Honey Citrus Steak Lettuce Cups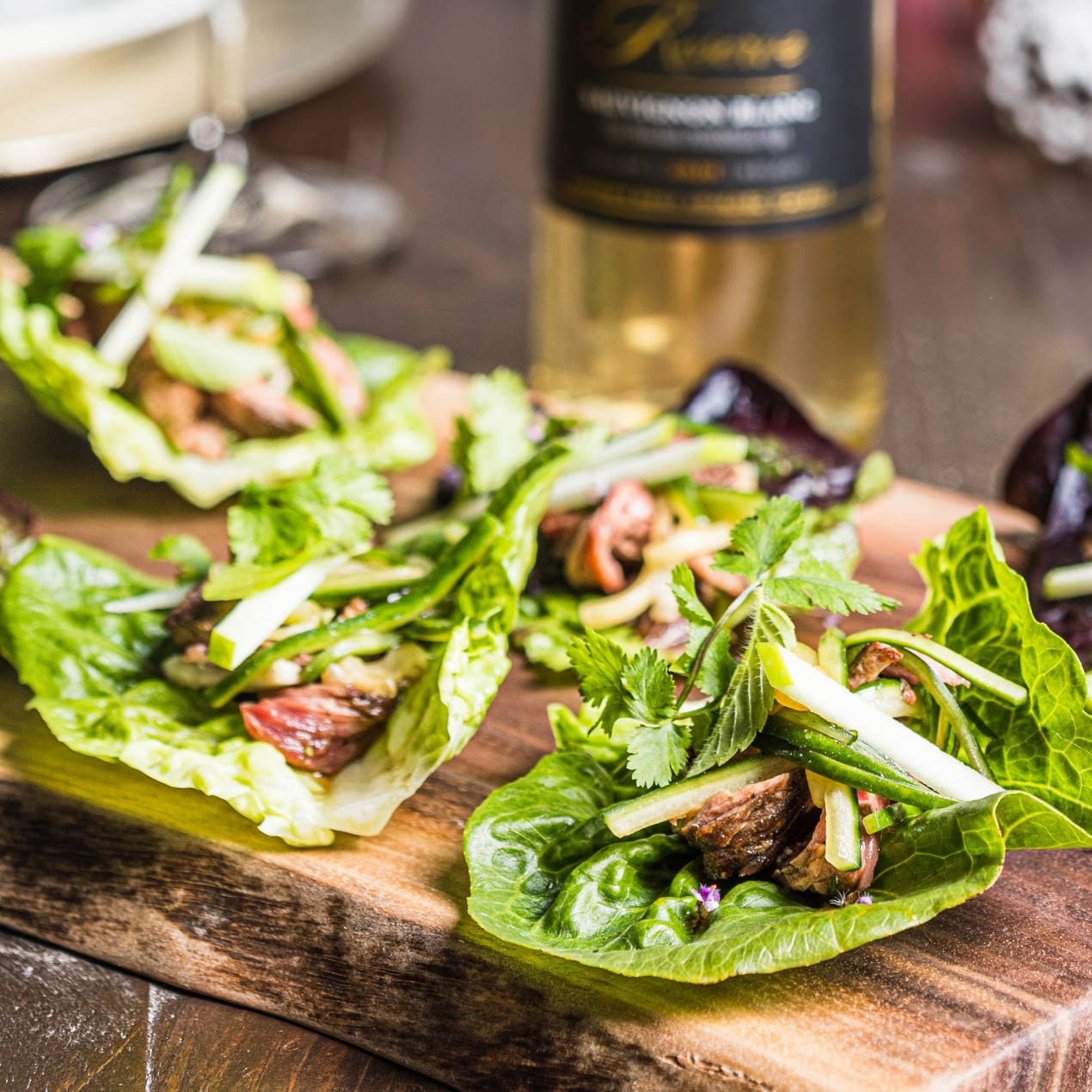 Everyone deserves a cup of cheer over the holidays and these lettuce cups are the perfect appetizer to share with friends. Cheers to that!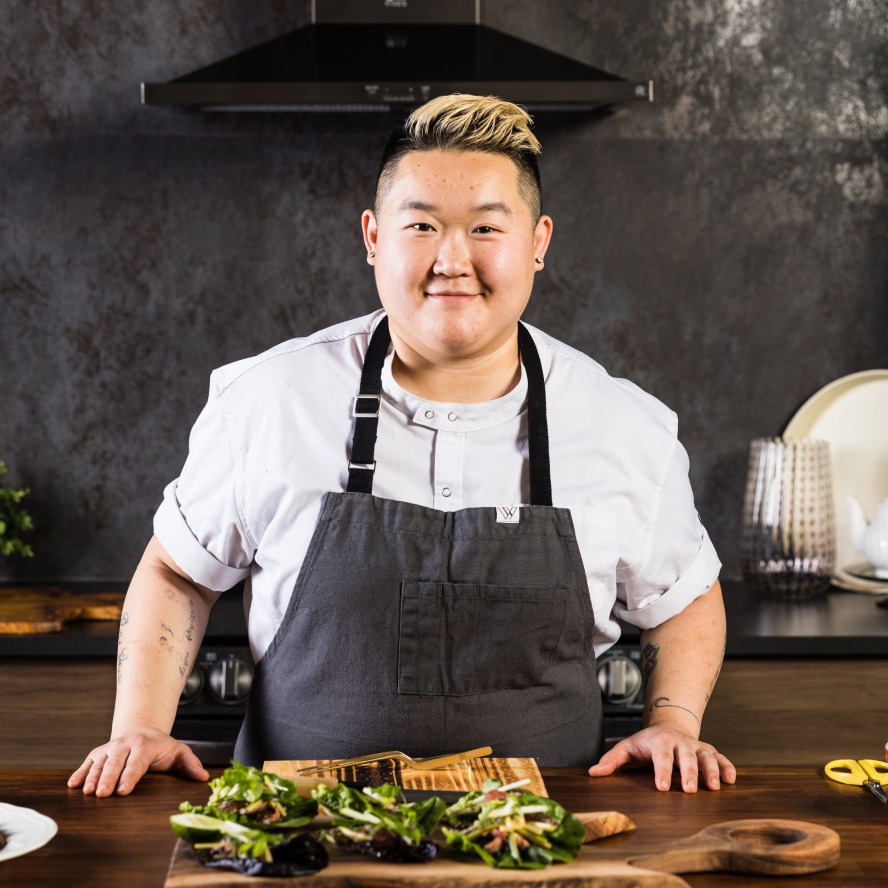 Local Toronto Chef, Eva Chin @ridetowander
Ingredients
1 head butter lettuce, reserve 8 small leaf cups
1 lb striploin steak, sliced into small, thin strips for stir fry
2 tbsp canola oil
1 pc baby cucumber, thinly sliced
1 pc green apple, thinly sliced
1 pc shallot, thinly sliced
¼ cup mint leaves, hand torn
¼ cup cilantro stems, finely minced
4 tbsp lime juice
4 tbsp lemon juice
2 tbsp fish sauce OR Braggs OR soy sauce
1 clove garlic, peeled, minced
4 tbsp honey
1 tbsp chili flakes
4 tbsp extra virgin olive oil
½ tbsp salt
½ tbsp black pepper
In a mixing bowl, whisk together olive oil, garlic, fish sauce, salt, pepper, citrus juices, honey, and chili flakes. Reserve half of the marinade and set aside.
Marinate steak strips in remaining marinade for 20 minutes.
In a cast iron pan, cook the marinated beef until your desired steak doneness. Medium to medium-rare is recommended for this recipe.
In a separate mixing bowl, toss together cut apples, cucumbers, and fresh herbs. Add the reserved marinade and toss gently.
Arrange lettuce cups on a platter. Spoon a little bit of the cucumber apple mix into each cup and then finish with a little bit of the steak on top!
Pairs With
Jackson Triggs CS Sauvignon Blanc
Jackson-Triggs Reserve Cellar Select Sauvignon Blanc is a crisp and refreshing white wine! Aromas of grapefruit are complimented by lemongrass with a dry and acidic finish.
Product Details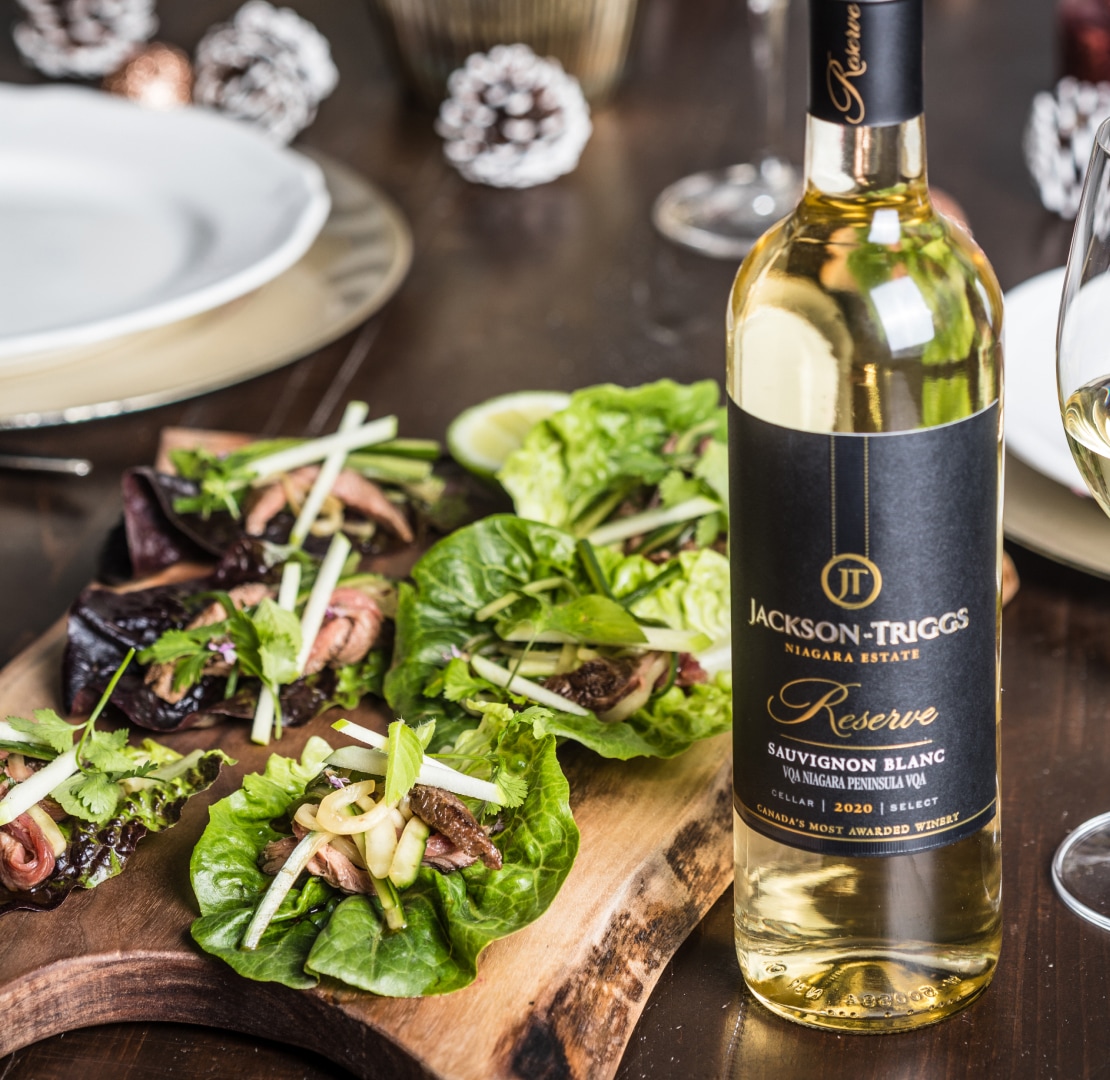 Cancel order
Order Cancelled
You are about to cancel this pick up order. Please specify the reason for the cancellation below before continuing.
You have just cancelled order number:

Confirm Pick Up
Pickup Confirmed
You are about to confirm this pick up order. Please specify any notes (if applicable below) before continuing.
Confirmed pick up for order number: