Wild Mushroom & Crème Fraîche Mini Toasts
Appetizer
Wild mushroom & crème fraîche mini toasts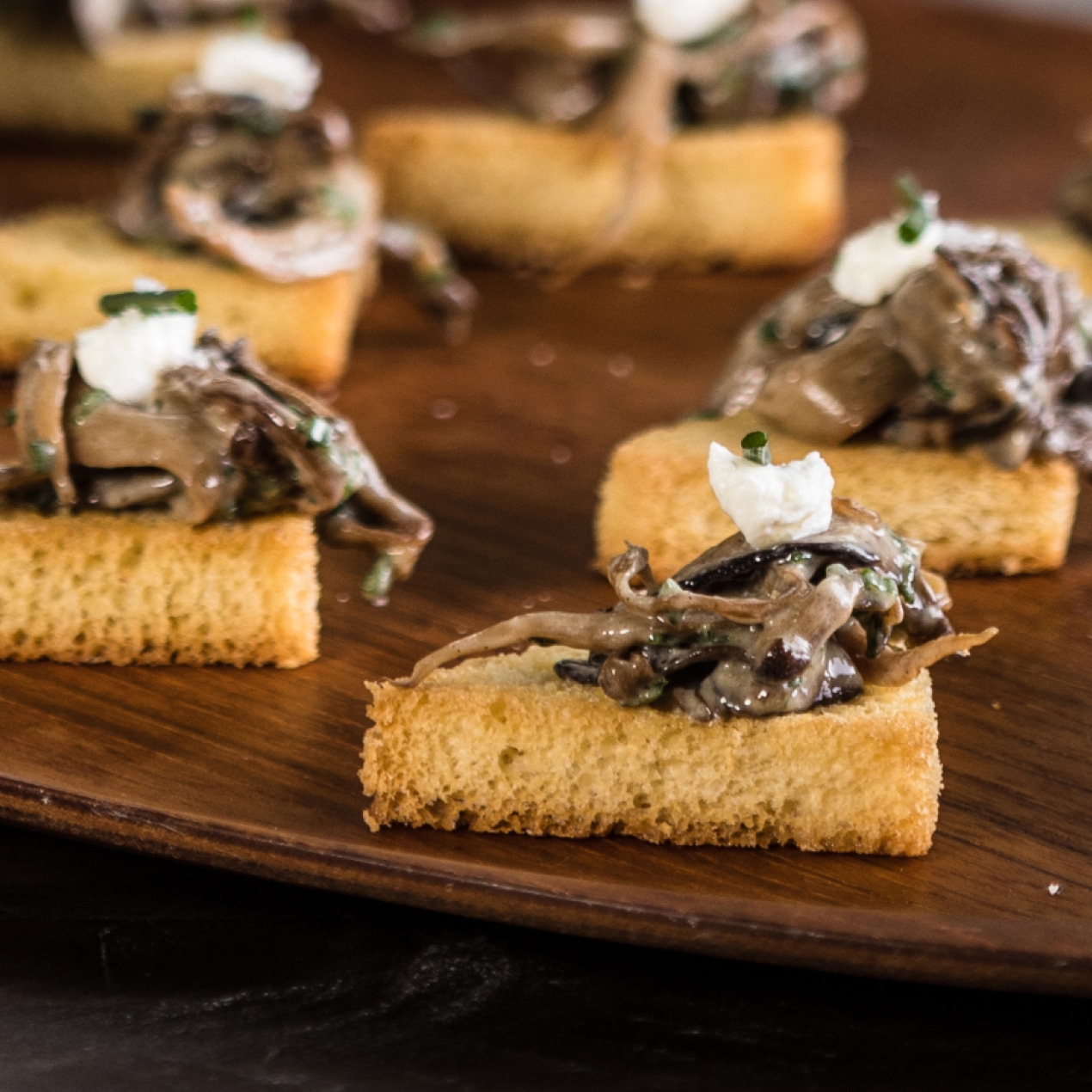 Warm and toasty is just what you need on a cold winter's night! This is the perfect app to share and enjoy over your holidays.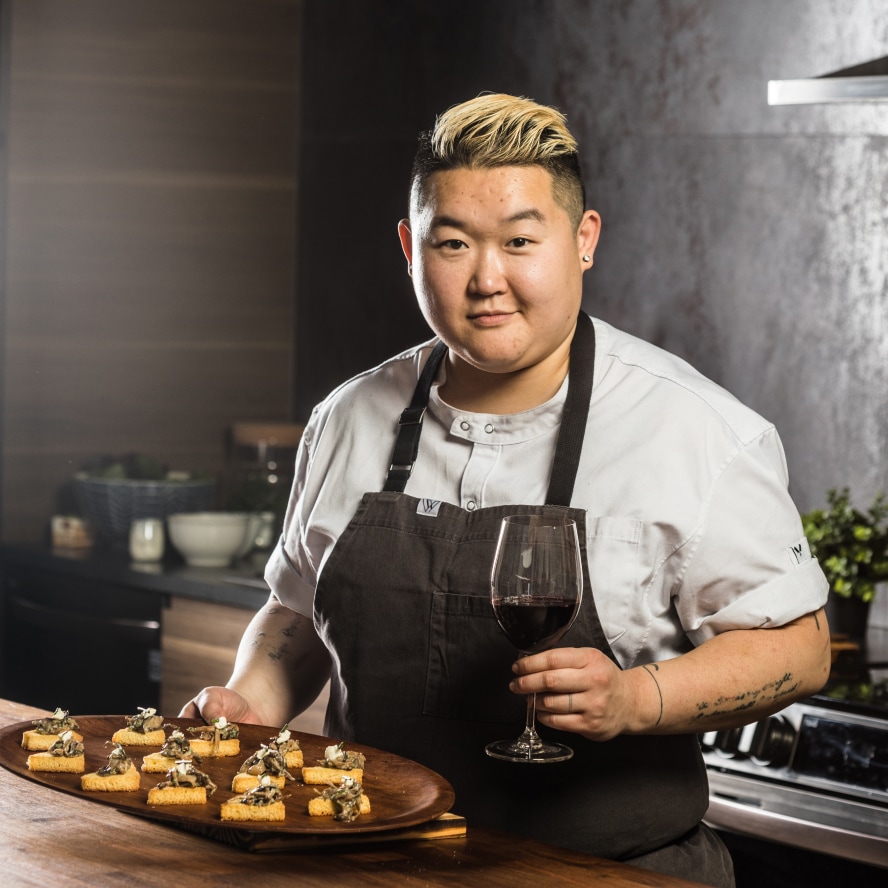 Local Toronto Chef, Eva Chin @ridetowander
Ingredients
2 pc brioche bread, sliced thick
4 tbsp warm melted butter
1 pc shallot, thinly sliced
1 clove garlic, peeled and minced
3 tbsp sherry or balsamic vinegar
1 tbsp salt
½ tsp freshly ground black pepper
¼ cup Inniskillin Reserve Merlot
2 tbsp chives, finely chopped
4 tbsp unsalted butter
2 cups assorted wild mushrooms (such as oyster, cremini, chanterelles, portobello, etc.), cut into thick slices
½ cup crème fraîche
The mushroom mixture can be kept in the fridge for up to 3 days, allowing you to prep this one ahead of time so you can spend more moments with family and friends!
Preheat the oven to 375°F.
Cut the crust off brioche to square it off and then thickly cut into slices. Then, cut each slice into four equal triangles.
Lightly brush both sides of the toast triangles with melted butter and place on a lined baking tray.
Bake toasts until lightly golden brown (about 7-8 minutes) and set aside to cool.
While the toasts are baking, melt butter in a deep skillet or cast iron pan over medium-high heat and add in mushrooms, stirring often until tender and browned (about 12 minutes).
Add garlic and shallots and continue to cook for another 2-3 minutes until more caramelization occurs.
Add in the merlot and stir well, mixing all the delicious flavours together.
As the wine cooks down and evaporates, turn heat to medium and add vinegar, salt, and black pepper, stirring until tender (about 5 minutes).
Take off the heat and begin arranging platters. Spoon the sautéed mushrooms on each toast triangle, and top with a little scoop of crème fraiche. Sprinkle each with chopped chives to finish off this delicious app.
Pairs With
Inniskillin Reserve Merlot
This rich red wine boasts notes of juicy black cherry, blackcurrant and vanilla, with a touch of smoke and leather.
Product Details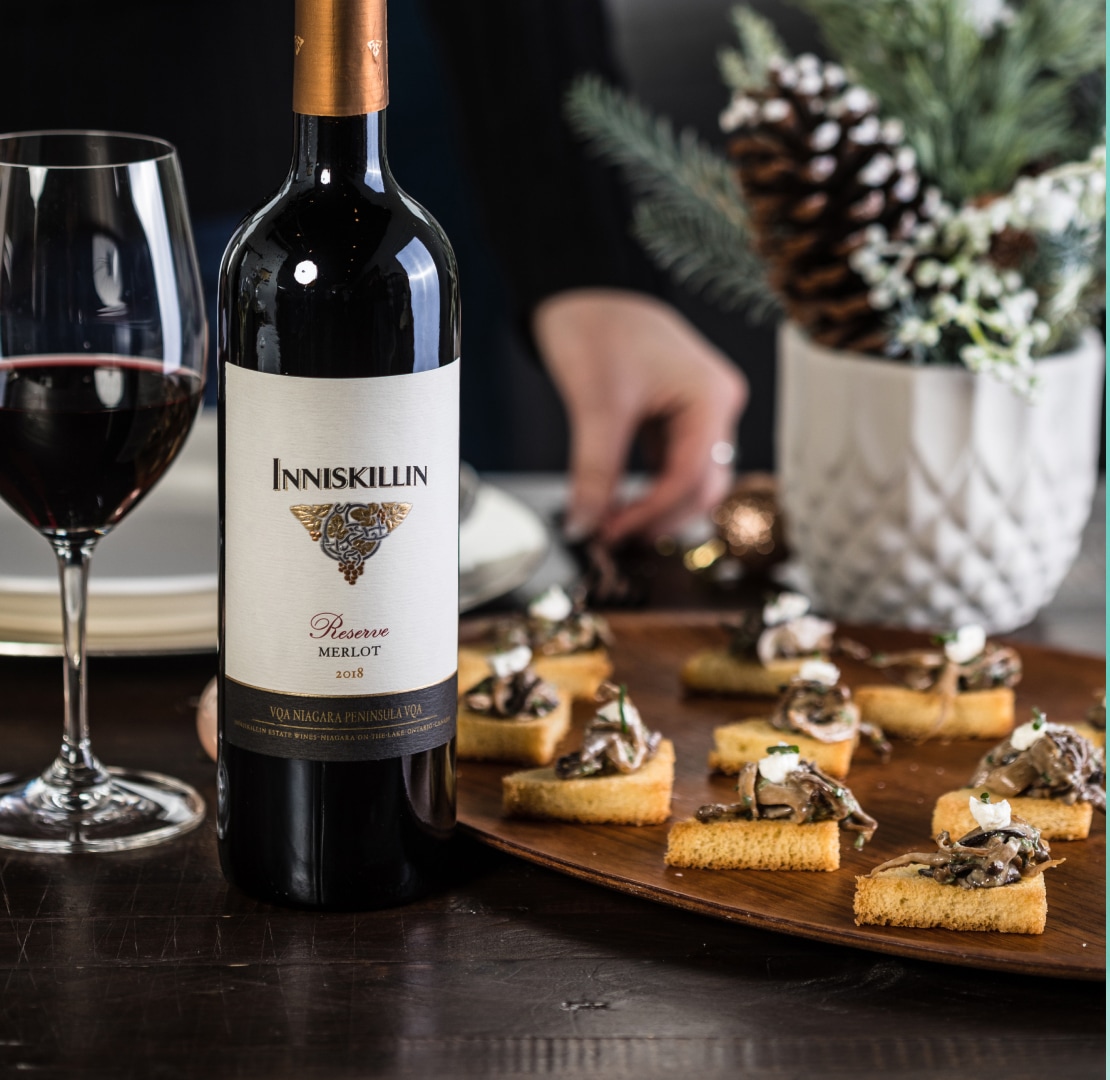 Cancel order
Order Cancelled
You are about to cancel this pick up order. Please specify the reason for the cancellation below before continuing.
You have just cancelled order number:

Confirm Pick Up
Pickup Confirmed
You are about to confirm this pick up order. Please specify any notes (if applicable below) before continuing.
Confirmed pick up for order number: