Ah, Thanksgiving! A time for family get-togethers, sumptuous feasts, and heartwarming memories. With so much to do before guests arrive for the big dinner, the last thing you want to worry about is deciding what to serve and what to drink.
In this blog, we'll share an easy holiday appetizer as well as a selection of refreshing local Ontario wine pairings to complement the dish. With select Wine Rack locations open late and during long weekends, you can easily shop for any last-minute wine needs on your shopping list.
The Perfect Pairing: Baked Brie & Local Ontario Wines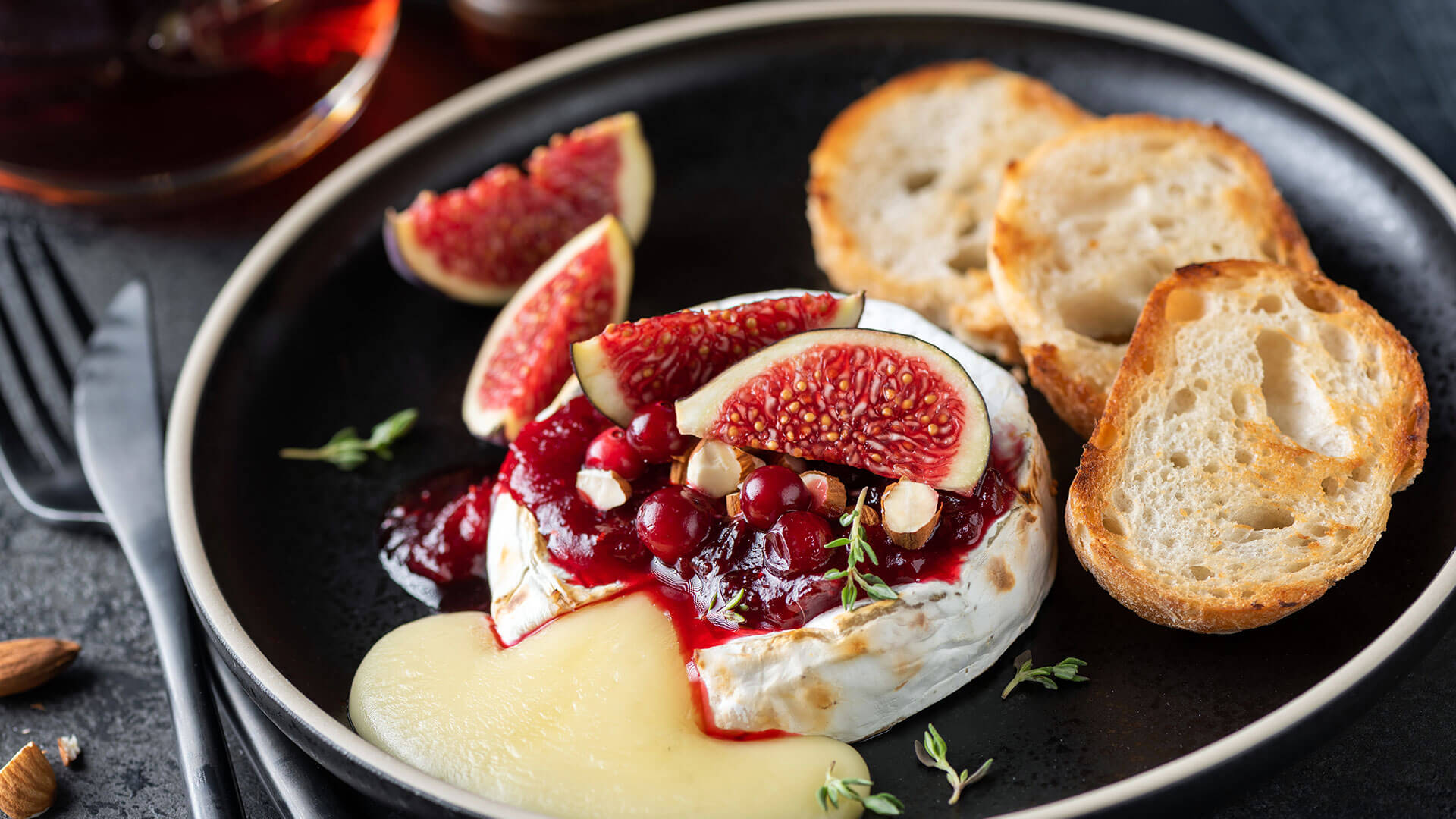 A timeless classic for any gathering is Brie cheese. Often referred to as the "Queen of Cheeses," Brie hails from France and boasts a rich, creamy texture surrounded by an edible rind. With a buttery soft inside, it's a delightful experience for the palate, and its mild yet intricate flavour makes it a star on any cheese platter. And what's even better than Brie? Baked Brie with a hint of red pepper jelly!
Red Pepper Jelly Baked Brie
Ingredients:
Wheel of Brie
2 tbsp red pepper jelly
½ pomegranates
½ cup pecans
Directions:
Preheat oven to 350 degrees F. Place the Brie on a sheet pan covered with parchment paper.
Cover the top of the cheese with red pepper jelly and toasted pecans.
Bake in the oven for 6 – 8 minutes, or until it starts to ooze but not melt.
Serve with crackers and enjoy!
Sweet, spicy, and dripping with cheesy goodness, this easy appetizer recipe can be whipped up in minutes and pairs brilliantly with local Ontario wines.
Local Ontario Wine Recommendations to Pair with Brie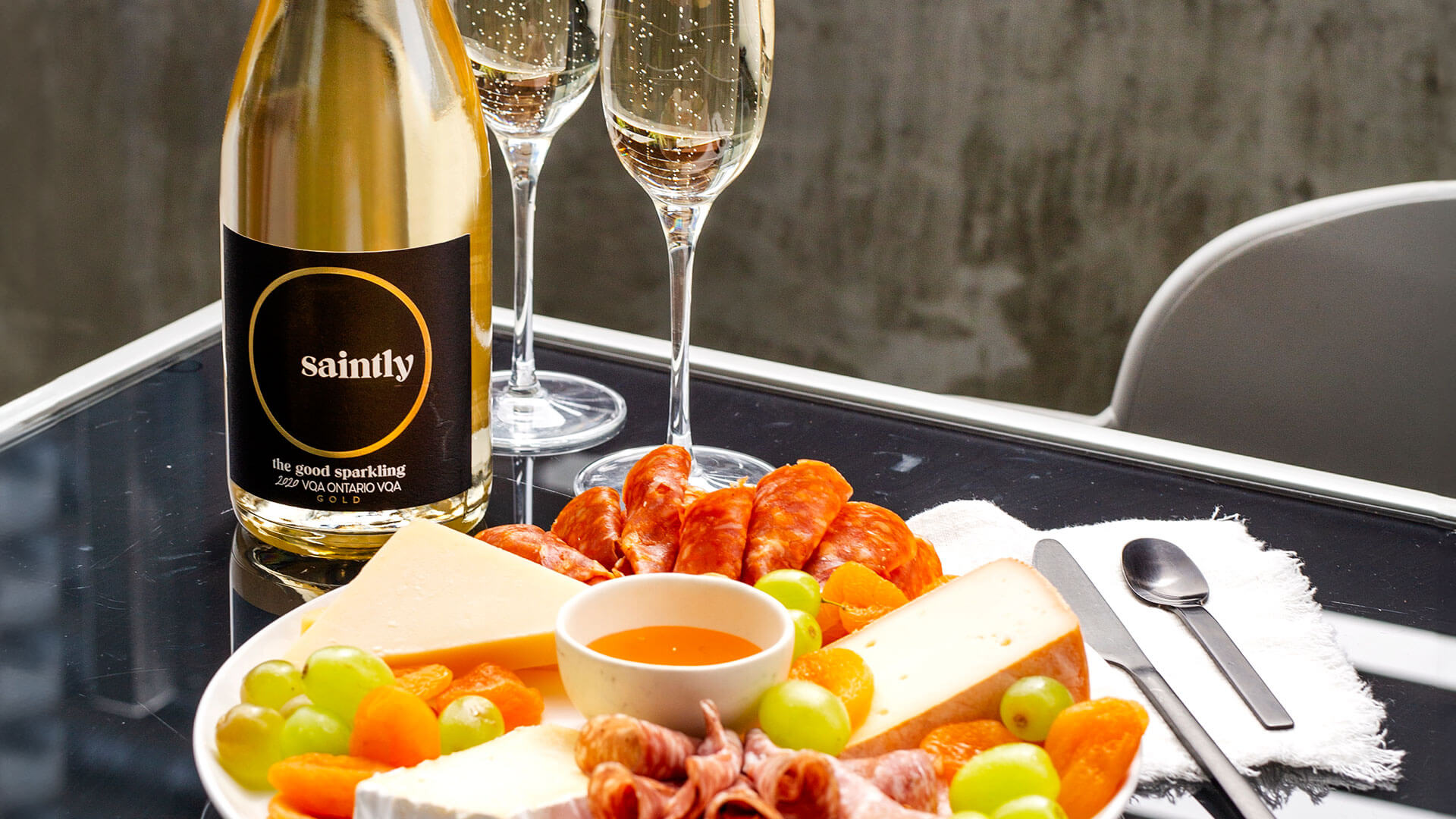 As a rule of thumb, an aged Brie, richer in flavour, harmonizes well with bolder wines, while a younger Brie finds its match in lighter, zesty wines. Although Brie is considered mild, it has layers, which give it a delicious complexity. As it matures, the slightly nutty, tangy, and sweet flavours will develop and change. This ever-changing nature of Brie makes it a wonderful companion for a variety of wines. Here are a few wine recommendations to pair with Brie cheese for your next gathering:
BASK Sauvignon Blanc: A crisp white wine with 0g sugar per 3/4 cup (188mL) serving! With notes of lemongrass, citrus, and gooseberry, the soft tannins and acidic finish are a perfect match with Brie's creamy texture. The refreshing notes work well to counterbalance Brie's richness.
Saintly the good sparkling: A clean, crisp palate with aromas of citrus, peach, pear, and slight floral notes. The effervescence, fruity notes, and acidity pair incredibly with soft, mild, and creamy cheeses, like Brie. The high acidity and bubbles cleanse the palate in preparation for whatever you'll be enjoying next!
Inniskillin Reserve Pinot Noir: White pepper and dark berry fruit are accented by spice, vanilla, and floral aromas on the nose. The palate is well-structured and balanced, displaying spice and berry flavours that lead to a complex and extended finish. This lighter-bodied, fruit-forward red won't overpower Brie's distinct flavours and is a great option for those who prefer red over white wine.
Jackson-Triggs Grand Reserve Chardonnay: Powerful and bold with lush flavours of tropical and citrus fruits and warm undertones of caramel and vanilla. This wine's fresh acidity cleanses the palate, ensuring Brie's richness isn't overpowering, while the medium-to-full-body matches the cheese's creaminess perfectly.